bluemiles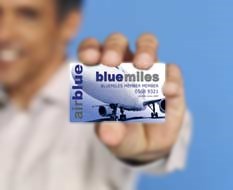 Frequently Asked Questions
What is Airblue's Frequent Flyer "BlueMiles" Program?
Like many airlines, we offer a Frequent Flyer Membership. BlueMiles™ make it possible to reward our most loyal passengers with discounted airfares and special offers. Every time you fly, the mileage that you travel is reflected in your BlueMiles account. You may redeem your BlueMiles once you have earned 12,000 Miles.


How do I earn BlueMiles?
You must be a member of our Frequent Flyer program and have a BlueMiles account. Every time you complete a flight we will automatically credit your BlueMiles account with the miles traveled. Your Frequent Flyer number must be entered along with your name at the time you make your reservation. If your FF# is not entered with your reservation and displayed on your eTicket, you may contact airblue within 45 days of your flight, and the miles can be rewarded to your account at that time.


How many BlueMiles do I need to redeem for travel? *
You must have a minimum of 12,000 miles before you can redeem for travel. Special offers are available at various times, so log into your account and click the button to "Redeem Miles" to see the miles required for any route. (Domestic within Pakistan 12,000 each way, UAE/MCT 18,000 each way, KSA 25,000 each way )


How do you keep track of my BlueMiles?
Our systems update your BlueMiles within 14 days after you have completed a flight. We track all travel for which you have provided your membership number.


May I see how much I have?
Absolutely. Simply log in to your account online or call us at 111-AIR-BLUE (111-247-258) and one of our representatives will be glad to assist you.


How many miles will I earn for each trip? *
Miles are earned based on the distance between locations. Miles rewarded are adjusted automatically according to the booked Fare Family (discount / standard / premium)



* Number of BlueMiles earned & needed to redeem (/per one-way flight segment):


Zone
Market
Miles Earned
(economy standard)
Miles needed
to Redeem
PK
ISB-KHI
699
12,000
PK
KHI-ISB
699
12,000
PK
KHI-LHE
634
12,000
PK
LHE-KHI
634
12,000
ME
AUH-ISB
1270
18,000
ME
AUH-LHE
1310
18,000
ME
AUH-PEW
1210
18,000
ME
DXB-ISB
1211
18,000
ME
DXB-LHE
1234
18,000
ME
DXB-PEW
1141
18,000
ME
ISB-AUH
1270
18,000
ME
ISB-DXB
1211
18,000
ME
ISB-SHJ
1211
18,000
ME
LHE-AUH
1310
18,000
ME
LHE-DXB
1234
18,000
ME
LHE-SHJ
1234
18,000
ME
PEW-AUH
1210
18,000
ME
PEW-DXB
1141
18,000
ME
SHJ-ISB
1211
18,000
ME
SHJ-LHE
1234
18,000
ME
MUX-SHJ
1029
18,000
ME
SHJ-MUX
1029
18,000
SA
ISB-JED
2223
25,000
SA
JED-ISB
2223
25,000
SA
JED-KHI
1788
25,000
SA
JED-LHE
2271
25,000
SA
KHI-JED
1788
25,000
SA
LHE-JED
2271
25,000
SA
ISB-RUH
1696
25,000
SA
RUH-ISB
1696
25,000
SA
LHE-MED
2164
25,000
SA
MED-LHE
2164
25,000
SA
MUX-MED
1981
25,000
SA
MED-MUX
1981
25,000
For more information or customer assistance please contact us.


<< Go Back <<