Cargoservices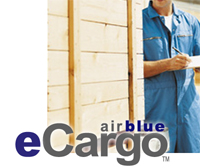 Airblue eCargo Booking Services

Airblue offers more than 70,000 kgs cargo space on more than 18 flights every day. Our certified Airblue eCargo Agents book cargo directly online, saving time and cutting costs.
Airblue is proud to help businesses to ship goods faster and more reliably then ever before. Pickup and drop-off centers are conveniently located near city airports.
Questions? Call our Sales Management Offices Monday-Friday from 10 AM-4 PM:
From within Pakistan: 111-247-258 | From Outside Pakistan: (92)51-111-247-258
OR Contact our nearest city sales offices for further information.