TravelInfo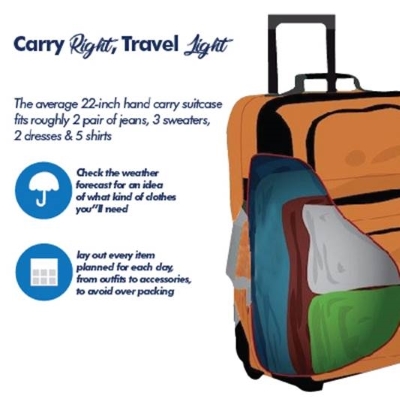 Bon Voyage
Welcome to your airblue flight. The airblue personnel at the airport and on board your flight are committed to ensuring that you have a safe, comfortable, and enjoyable journey.
Provided below is useful information for carry-on and checked baggage allowances and fees, as well as information regarding ticket refunds and exchanges.
If you have any questions about your travel arrangements, please do not hesitate to contact us.
REPORTING TIME:
Flights open for check-in 2 1/2 hours before scheduled departure time on domestic flights and 4 hours before scheduled departure time on international flights. Guests must Check in 2 hours before flight departure. Check-in counters close 45 min before flight departure for domestic flights and 90 minutes before departure for international flights.


CARRY-ON BAGGAGE ALLOWANCE:
LIMIT: 1 Carry-On bag per guest / SIZE LIMIT: 22in x 15in x 8in (L+W+H=45 inches) / WEIGHT LIMIT: Max weight 7 kg / 15 lb


CHECKED-BAGGAGE ALLOWANCE:
Economy Xtra: 1 bag 30kg checked bag for Adult and Child guests.
Economy Flexi: 1 bag 20kg checked bag for Adult and Child guests.
Economy Value: NO Free Checked Baggage Allowance
WEIGHT LIMIT: Max weight per bag: 30 kg
BAG SIZE LIMIT: Max size per bag: L+H+W = 54 inches


EXCESS BAGGAGE FEES:
PK Domestic: Rs. 170 per kg

To/From UAE: Rs. 200 / AED 17 per kg
To/From KSA: Rs. 400 / SAR 27 per kg
To/From Oman: Rs. 350 / OMR 25 per kg
Oversized bags will be charged an additional fee of DHS 200 or SAR 200

To/From KSA: SAR 300 / Rs. 4000 per bag


LOST/DAMAGED BAG COMPENSATION:
The maximum liability for damaged or missing baggage is $20.00 US per kg on international flights and PKR 500 per kg on domestic flights.


TICKET CHANGES:
Guests pay the change fee indicated on the e-ticket display, PLUS the difference in the fare. The same fare is not guaranteed. Exchanges are allowed for the same sector only. Fees apply for each guest;


TICKET REFUNDS:
Guests pay the refund fee indicated on the e-ticket display. For refunds, NIC must be provided for all guests.


TICKET EXPIRATION:
Tickets expire 30 days after the flight date. Expired tickets have no value, and cannot be refunded, cancelled, or changed.


LIMITED LIABILITY:
The maximum airline liability in the event of denied boarding, delayed, or cancelled flight is limited to the price paid for the ticket.